Useful information
>
On site
On site
What to do? What to see?
Visiting hours:

The ships will be visitable free of charge from June 7th to June 15th, from 10am to 5pm (excluding during technical closing and privatization on board).
You will find soon on this page, more information regarding the activities during the Armada.
Panorama XXL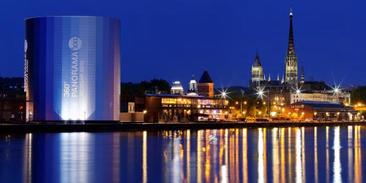 Located on the river banks, the Panorama XXL, unique and spectacular venue in France, presents the largest 360° images in the world.
During the Armada 2019, enjoy our new exhibition : "Titanic, the promise of modernity"!
Come and explore the wreck of this tragically famous cruise line lying 3,800 meters beneath the sea.

Opening times :
Every day from 10am to 10pm
The visit is free for the crew in uniform
Historial Jeanne d'Arc
The Joan of Arc Historial, located near the cathedral of Rouen, welcomes you at the heart of a unique historical place in France!
The dramatized tour, specially created to illustrate the epic story of this great French heroine, is a masterpiece of technology and innovation with a touch of emotion thrown in.
From the watch tour, do not miss the unique and wonderful panoramic view overs the roofs of the old city and the cathedral .

Opening times :
Every day from 10am to 7pm
The visit is free for the crew in uniform