THE

INVITED

VESSELS

Back to sailboats list
Atyla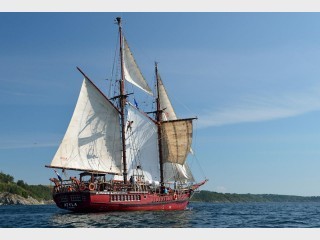 The Atyla was built from 1980 to 1984 on various Spanish shipyards based around Esteban Vicente Jiménez plans who wanted to make a schooner according to other models of the early nineteenth century and in a traditional way. His intention was to go around the world according to the itinerary of the expedition of Fernand de Magellan and Juan Sebastián Elcano (1519-1522).
The first part of the construction took place in Vinuesa where most of the pieces of carpentry, masts, furniture and sculptures were made with local woods. The boat was then called Taurus.
In 1982, six trucks transported all the pieces of wood to Lekeitio (Vizcaya) for assembling at the Isuntza Shipyard.
It was launched on May 15, 1984 under the name Itsaso-Petronor (sponsored by the oil company of the same name). The end of the construction was carried out at the Celaya shipyard in Erandio, in the Bilbao estuary. Then he took the name of Marea Errota (in memory of the tide mill from the beginning of his construction) from 1984 to 2005. From 2005 to 2012, he was known as Cantabria Infinita and served as ambassador boat for the region of Cantabria and had Santander as home port.
After this regional contract, the schooner took the name of Atyla in 2013 and sailed in the Mediterranean from the port of Badalona.
Since 2014, the schooner has served as a training ship on the European coast. It participated in the 2015 Sail Amsterdam.
In 2018 Atyla participated in the Tall Ships Regatta 2018 from Dublin to Bordeaux.
It will participate in the Liberty Tall Ships Regatta 2019 leaving from Armada of Rouen 2019.
Crew
5
Type
Schooner
Launched
1984
Overall length
31
Hull length
25
Beam
8
Draught
3m
Sail area
400 m²
Capacity
70
Country
Espagne
Home port
Bilbao