THE

INVITED

VESSELS

Back to sailboats list
Aztec Lady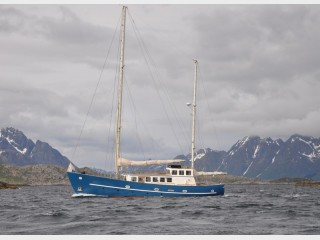 Aztec Lady is a strong steel sailboat of 21 m. He(it) was conceived for the navigation under high latitudes.
Brought out of the British construction works of Southampton in 1977 it is a unique and atypical boat. Her lounge of panoramic deck illustrates its peculiarity.
Bought back in 2009 by a company of cruise of Granville, this ship raises from now on the French detached flag.
This ship proposes programs of navigations(browsings) in North Atlantic and in Arctic, is destinations such as: Spitsbergen, Greenland, Faroe Islands, Iceland, Norway, islands Lofoten but also cruises in the Channel Islands.
Participation in the Armada: 2013
Crew
3 sailors
Type
Two-masted ship
Overall length
21 m
Beam
6 m
Sail area
200 m²
Country
France