THE

INVITED

VESSELS

Back to sailboats list
El Galeon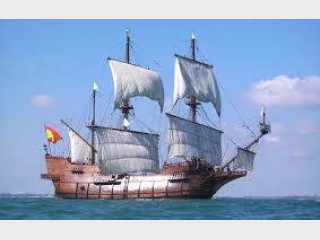 El Galeón or Galeón Andalucía is the replica of a 16th century Spanish galleon designed and built by Ignacio Fernández Vial. It was sponsored and built by the Regional Government of Andalusia and the Nao Victoria Foundation with the objectives of promoting the event Guadalquivir: A River With History, being part of the Spanish Pavilion during the 2010 World Expo in Shanghai and becoming ambassador of the Autonomous Community of Andalusia.
In addition, the Nao Victoria Foundation signed cooperation agreements with several Andalusian universities, and also with the one in Barcelona and in Liverpool, for the development of various projects. It has also received the Grand Sailing Award from the Spanish Sailing Federation.
It is a replica of the galleons of the fleets of New Spain, Tierra Firme and the Manila galleon, which, during the seventeenth century, traded with various ports of America and Asia. It was designed and built by Ignacio Fernández Vial after a long process of historical research. He had, on his first trip, a crew of 32 people led by the navigation teacher Antonio Gonzalo de la Cruz.
In its main deck are the bowsprit and three masts for the seven sails. The stern culminates with a Marian representation, the Esperanza de Triana, whose replica is also located in the chamber officers.
The structure is made of oak and pine with a coating of fiberglass. Despite being a replica, it includes current technology especially to guarantee safety aboard.
Crew
12 sailors
Type
Galleon
Launched
2010
Overall length
51 m
Hull length
38 m
Beam
10,12 m
Draught
3,40 m
Sail area
590 m²
Country
Espagne