THE

INVITED

VESSELS

Back to sailboats list
Elan (A768)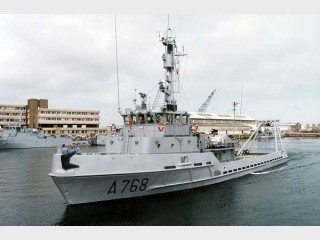 The Elan Area Support Building (BSR) is a servitude building designed and developed by La Perriere Shipyards and Workshops in Lorient.

Its plans are derived from the Ferronia International Shipping's vessels, which employs them as tugboats and tankers.

Laid down on March 16, 1977, it was launched on July 28 of the same year before being admitted to active duty on April 7, 1978.

Initially based in Brest (Direction of the Port), the Elan is since May 1, 1998 assigned to naval base of Cherbourg (replacing the barge La Fidèle accidentally cast).

As part of the fight against pollution, he was particularly successful in December 1999, during the sinking of the Erika.

Since then, it has continued its support missions to the forces affected in the Channel. For more than 20 years, he has completed 700 missions and traveled more than 165,000 nautical miles in 1500 days at sea.