THE

INVITED

VESSELS

Back to sailboats list
Etoile de France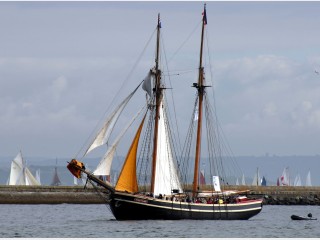 It was built by the Danish shipyard Rasmus Moller in 1938 as a cargo ship for the Baltic Sea. This three-masted schooner was one of the robust "Baltic Trader" with an oak wooden hull.
It served to transport salt and cod between Iceland, Denmark and Portugal. In the 50s, it was converted into a motor coaster for the Swedish Navy and then turned again to transport goods for Denmark.
In 1971, this vessel became a training ship. In 2007, it was used as a sailing charter and its home port became Saint-Malo. It allows day trips to the sea and cruises in the Manche, Atlantic, Mediterranean and Caribbean seas.
Participation in Armada: 2013
Crew
2 sailors
Type
Topsail schooner
Launched
1938
Overall length
39.90 m
Hull length
28.40 m
Beam
6.94 m
Draught
2.80 m
Sail area
3480 m²
Displacement
220 tonnes
Capacity
24 to 66 passengers
Shipyard
Rasmus Moller Faborg, Denmark
Owner
Etoile Marine Croisières Company
Country
France
Home port
Saint-Malo