THE

INVITED

VESSELS

Back to sailboats list
Gorch Fock II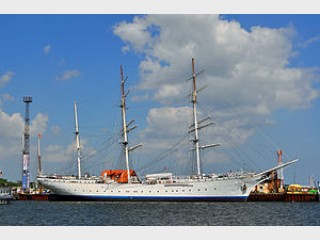 Gorch Fock II is a sailboat-school of the German navy ( Deutsche Marine). It is the second ship to bear this name and is a ship-twin of the Gorch Fock I builds in 1933, become Russian Tovarishch after the Second World War.

Both ships were so appointed in honor of the German writer Johann Kinau who wrote under the pen name " Gorch Fock " and who died during the battle of Jutland in 1916.

Gorch Fock II, three-master boat with shell of steel, was built in 1958 in the construction sites(works) of Blohm and Voss of Hamburg, to replace Pamir which made wreck in 1957.

Its port of registry is Kiel and it is up to the naval Academy (Regional education authority) of Mürwik.
Crew
74 marins - 200 cadets
Type
Three-masted barque
Launched
1958
Overall length
89,30 m
Hull length
81,20 m
Beam
12 m
Draught
5,25 m
Sail area
2037 m2 (23 voiles)
Displacement
1760 T
Shipyard
Blohm & Voss
Country
Allemagne
Home port
Kiel -Allemagne