THE

INVITED

VESSELS

Back to sailboats list
L'Hermione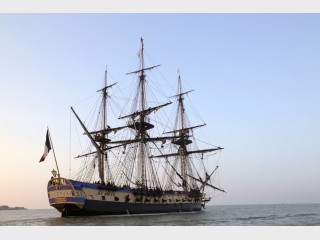 On 21 March 1780, the young major general La Fayette boarded the Hermione. He went to fight alongside the American insurgents who were struggling for their independence. He landed in Boston after a 38 day crossing and met General Washington to announce the impending arrival of French reinforcement.
Eighteen months later, the American insurgents, whom La Fayette had joined, won decisive victories, first in Chesapeake Bay, then in Yorktown, with the support of French troops led by Rochambeau and de Grasse.
In July 1997, the Hermione-La Fayette association embarked for a tremendous challenge: the reconstruction of the Hermione frigate, the ship which allowed La Fayette to join the American insurgents in the struggle for their independence in 1780.
Rebuilding the Hermione means reconstituting an element of our maritime heritage. It's the opening of a big construction site contributing to the economy and culture of a whole region.
State-of-the-art technology at the service of authenticity: the ambition of the Hermione-La Fayette Association is to reconstruct the frigate as closely as possible to the original one, while taking into account modern statutory constraints concerning seaworthiness: a ship more than 65 m long, carrying three masts and a sail area of 2200 m2, with a hull entirely made of oak.
On 18 April 2015, it departed to the United States and reached Bodie Island, North Carolina, on May 31.
After multiple stops in America, the first in Yorktown on 5 June, she returned to Brest, France, on 10 August 2015. On 29 August 2015, it went back to its home port in Rochefort where major re-enactment festivities were organized.
In 2018, it undertakes another great voyage, entitled "Freedom from the Atlantic to the Mediterranean". The frigate left Rochefort on 31 January and returned on 17 June 2018 after 11 stops.
The crew members come from a wide range of occupations and are trained to sail as in the 18th century.
The Hermione will stop in 8 cities of France, from May 4 to June 19.

The stopover program:
1 Cherbourg: May 4th to 8th
2 Dieppe: May 10th to 13th
3 Ouistreham: May 14 to 17
4 Saint-Nazaire: May 23 to 25
5 Nantes: May 25 to 28
6 Brest (mooring) 1 June
7 Rives-en-Seine: June 5-7
8 Rouen: 7 to 16 June
9 Honfleur: June 17th to 19th
Crew
80 sailors
Type
Frigate
Launched
2012
Overall length
66 m
Hull length
44,20 m
Beam
11,24 m
Draught
5,78 m
Sail area
2200 m²
Tonnage
1166 tonnes
Speed
13,3 to 14,5 knots
Shipyard
Port de Rochefort - France
Owner
association Hermione La Fayette
Country
France
Home port
Rochefort - France