THE

INVITED

VESSELS

Back to sailboats list
Snellius (A802)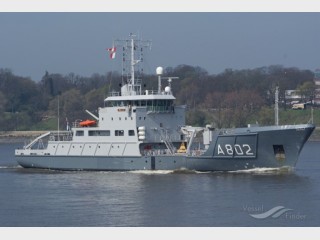 HNLMS Snellius (A802) (Netherlands: Zr.Ms. Snellius) is a hydrographic surveillance vessel of the Royal Netherlands Navy (Koninklijke Marine) of Snellius Class.
Snellius is a sister-ship of HNLMS Luymes.

It takes its name from the mathematician Willebrord Snellius who contributed to the advancement of hydrography.
This ship was built in the Netherlands from a hull built in Romania.
It can carry out several activities such as monitoring the navigation zones, operating as a guard ship, representing the Netherlands abroad, it can also assist the maritime scientific investigations of the Ministry of Defense as well as relief operations.

Snellius is the third hydrographic vessel to bear this name.
Type
Test and Measurement Vessel
Country
Pays-Bas