THE

INVITED

VESSELS

Back to sailboats list
Hosanna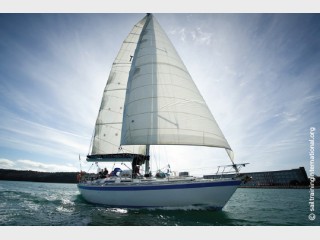 The practice of sailing at the Naval School meets the basic needs, for the students, of maritime training, learning of the marine environment and generally of acquisition of the marine direction. To meet this demand, the Naval School has high quality sailing and ocean cruisers.
The Centurion 47 Hosanna (14.5 m) is part of the Naval School Flotilla.
The Hosanna was built by the shipyard Wauquiez in Marseille. It was launched in St. Martin in the Antilles in 1990. From 1990 to 1996, Hosanna participated in the races of Antigua. Its main ports of call were St. Barthelemy, Anguilla, St. Kitts, Barbuda, Antigua, British Virgin Islands, Tortola, Anegada, Just van Dick.
Its owner will donate it to the Naval School of Brest on October 1, 2010.
Since then, Hosanna has been sailing for Naval School students and young sailors from different backgrounds. The Hosanna took part in his first Tall Ships' Race during the summer of 2012. In the summer of 2017, he made a stop in Le Havre as part of the 500th anniversary of the Ocean City.
Type
Sloop
Country
France