THE

INVITED

VESSELS

Back to sailboats list
JR Tolkien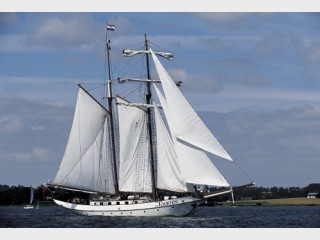 JR Tolkien, a Dutch topsail schooner built in 1964, was originally called Dierkow. It was used to transport goods from the North Sea to the Baltic Sea.

In 1996, this ship was bought by a Dutch who transformed it into a cruiser.

This luxurious schooner can transport 90 passengers in a day and 32 trainees in cruises.

The main reception room can welcome up to 50 people for diner.
Participation in Armada: 2003, 2008
Type
Topsail schooner
Launched
1964
Hull length
45m
Beam
7,6m
Draught
3m
Sail area
828 m²
Shipyard
Edgar André, Magdebourg
Owner
Van der Rest Charter
Country
Pays-Bas
Home port
Amsterdam