THE

INVITED

VESSELS

Back to sailboats list
Le Français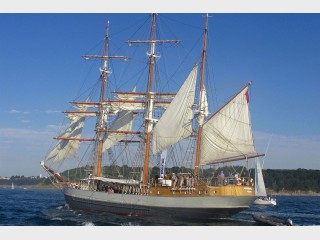 Formerly known as The Kaskelot (literally "sperm whale" in Danish), Le Français is a three-mast wooden bark boat, built in Denmark in 1948, for the Royal Greenland Trading Company, renovated in 1983 for the needs of the cinema.

In 1948, Denmark launched this wooden vessel rigged in ketch and with a double hull as a supply ship for Greenland. It was used as a support fishing ship in the Faroe Islands.

Bought in 1983 by the British Robin Davies, it was transformed in a three-masted barque. It started then its cinema career.

In 1984, it rejoined Greenland and it was used as the equivalent of Captain Scott's Terra Nova, then it was used to replace Fram de Nansen, the vessel of Treasure Island. In 1995, we can see it in the French film Beaumarchais, the Scoundrel, then in the credits of the series La Rivière Espérance, filmed in Cherbourg.
Today, the Kaskelot is renamed Le Français. It is available for training young sailors and for cruises, with its 3 passenger cabins.

Participation in Armada: 1994, 1999, 2003
Type
Three-masted barque
Launched
1948
Overall length
47 m
Beam
8,50 m
Draught
3,60 m
Sail area
882 m²
Owner
Bob Escoffier maritime
Country
France
Home port
Saint-Malo, France