THE

INVITED

VESSELS

Back to sailboats list
Kruzenshtern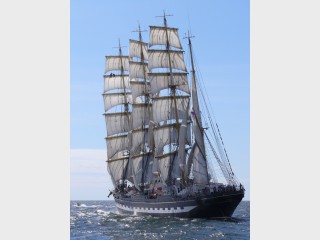 This large vessel was built in Germany in 1926 to transport construction materials to Chile. It was named "Padua" (named after the Italian city, Padua). It was given in 1946 to the former URSS as war reparation. This four-masted barque was renamed Kruzenshtern, in honour to baron Kruzenshtern, admiral of the Russian Imperial Fleet in the early XIX century.
Its first missions, after several years of repairs and modernizations, were at the service of hydrographic and oceanographic studies for the Academy of Sciences. Then, it was transferred to the fisheries department to train young people.
Nowadays, it is a training ship based in Kalingrad. It is the second largest sailing ship in the world. It was used in three German films and in several Russian and Soviet films and it was also used in a frame of the 1936 French film "Les Mutinés de l'Elseneur" by Pierre Chenal.
Participation in Armada: 2013
Crew
257 sailors
Type
Four-masted barque
Launched
1926
Overall length
114.50 m
Country
Fédération de Russie
Home port
Kaliningrad