THE

INVITED

VESSELS

Back to sailboats list
Loth Lorien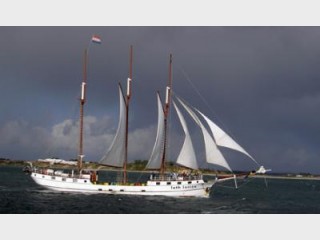 This three-masted barque was built in 1907 in Bergen, Norway. Its highlight is the foremast that has yardarms carrying square-rigged sails.
This vessel was formerly named Njord and it was used for herring fishing until 1944. Then, it was abandoned and left in the dust.
In 1989, a Dutch ship-owner bought it and restored it completely. He decided to call it Loth Lorien, the name of the Elf forest in The Lord of the Rings. Today, it is a luxurious cruise ship. With 10 cabins, it offers accommodation to 34 guests. It can embark up to 90 passengers per day.
Participation in Armada: 1999, 2003, 2008
Type
Three-masted schooner
Launched
1907
Overall length
48 m
Capacity
90 p
Country
Pays-Bas
Home port
Amsterdam