THE

INVITED

VESSELS

Back to sailboats list
Marité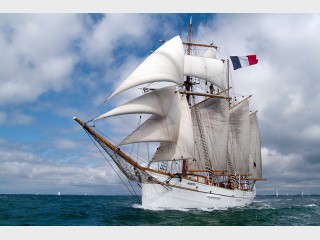 Named with the diminutive of Marie-Thérèse Le Borgne, daughter of the ship-owner and godmother of the vessel, Marité was launched on June 24 of 1923 in Fécamp. It has 13 sails and 3 masts, weighing one tonne, surmounted by a topmast of 11 meters. It was used as a cod fishing ship in Newfoundland from 1924 to 1929.
Originally, it was a cod fishing boat, but over the years, it became a pleasure boat. The proprietary is a GIP (French Group of Public Interest) composed by several Normand communities. It was used on the French TV show 'Thalassa' for a few years.
Since 2012, Marité is based in Granville. It embarks passengers at Port of Granville for touristic cruises over Granville bay, Chausey archipelago and Cancale.
Participation in Armada: 2013
Crew
6 sailors
Type
Three-masted schooner
Launched
1923
Overall length
44,9 m
Beam
29m
Draught
3,60m
Sail area
650 m²
Country
France
Home port
Granville