THE

INVITED

VESSELS

Back to sailboats list
Morgenster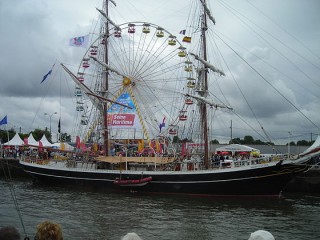 Morgenster is a Dutch brig (two masts), with steel hull and deck. Since its restauration in 2008, it participates in the Tall Ships Race. It was put to sea on 2nd June 2008. From 1919 until its restauration, it had a long career as a fishing ship in the North Sea.
Morgenster joined the Frisian Sailing Company fleet. Its action area was essentially the coast of West Europe.
Morgenster is a traditional sailing ship with authentic contemporary luxurious details. It's versatile, since it is used for parties, events, meetings, honeymoons and receptions as well as cruises thanks to its challenging qualities.
It embarks up to 36 people for cruises (8 cabins) and 90 people for day trips.
Participation in Armada: 2008
Type
Brig
Launched
1919
Overall length
48 m
Hull length
33,33 m
Beam
6,60 m
Draught
2,40 m
Sail area
600 m2
Country
Pays-Bas
Home port
Le Helder - Pays-Bas