THE

INVITED

VESSELS

Back to sailboats list
Oosterschelde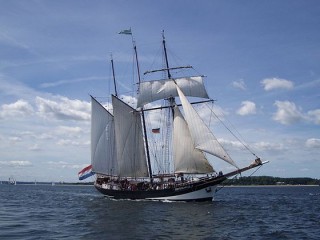 Oosterscheld is a Dutch barque with three masts and a topsail that measures 50 meters overall.
It was built in 1918 in the Netherlands and it sails under the German flag. This vessel is a maritime monument of sail construction. It was conceived to carry hundred of tons of goods (bricks, wood, bananas, potatoes…).
In 1921, the vessel was sold to Captain Kramer. Under his command, the Oosterchelde sailed mainly along the European coasts, but also the African coasts.
In 1988, the vessel was sold in order to be restored to its initial form. Thanks to extensive historical research and the collaboration of the last German captain, who sailed on board before its transformation, the restoration plans were completed. The restoration was so expensive that the Sailling Ship Rotterdam Foundation helped covering the costs through advertising.
The restoration began in spring of 1990 under the watchfull supervision of three maritime museums that cooperated with the shipyard. This approach guarateed the authentiticy of the restoration. On 21 August 1992, the vessel was officially recognised by the Royal Highness Princess Margaret.
Currently, Oosterschelde sails all around the world, all sails out, with on board passengers who want to live to the rhythm of these old boats for a few stops.
Participation in Armada: 2003
Crew
14 marins
Type
Three-masted schooner
Launched
1918
Overall length
50 m
Hull length
40,12 m
Beam
7,50 m
Draught
3 m
Sail area
891 m2
Tonnage
400 T
Shipyard
Pays-Bas
Owner
Sailing Ship Fondation de Rotterdam
Country
Pays-Bas
Home port
Rotterdam- Pays-Bas