THE

INVITED

VESSELS

Back to sailboats list
Palinuro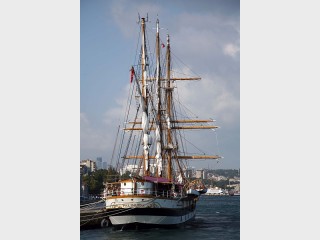 Palinuro is a three-master schooner in hull steel, built in France in Construction sites Dubigeon in 1934.
It is, since 1955, a training ship of Italian Marine.

This ship was thrown in France under the name of Commander Louis Richard, for the Company of peaches Falklands. He was intended for the peach in the cod on Newfoundland. It is the sister-ship of Lieutenant René Guillon.
It was bought back, in 1951, by Italian Marine. Its buckle of origin was restored, the poop deck was extended, the inside transformed to be of use to its new vocation, that of training ship for the training of the younger sailors of the Italian navy.

Its name comes from that of the pilot of the ship who returned Énée, fleeing Troy. According to the tradition, this ship led him in Italy where he settled and was at the origin of the city of Rome.

Participations in the Armada: 1999, 2003
Crew
6 officiers et marins, 76 cadets
Type
Three-masted schooner
Launched
1934
Overall length
69 m
Beam
9,20 m
Draught
4,80 m
Sail area
899 m2 (17 voiles)
Displacement
1341 T
Shipyard
Dubigeon - Nantes - France
Owner
Marina Militare
Country
Italie
Home port
Gênes - Italie