THE

INVITED

VESSELS

Back to sailboats list
Pluvier PSP (P678)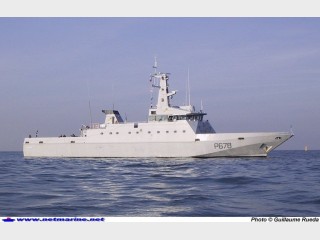 The Public Service Patrolman (PSP) Pluvier, named after a migratory bird, is the youngest member of a series of three patrol boats type OPV 54 (Offshore Patrol Vessel 54 meters), commissioned by the Navy in August 1993 [ 1] for the surveillance of fisheries and the economic zone of 200 nautical miles.

Built in Cherbourg, the Plover is initially based in Brest, where he arrived on September 19, 1997. He is organically attached, since June 1, 2000, to the Naval Action Force.

On 1 September 2001, he was posted to Cherbourg to replace the Audacieuse, under the command of the Commander of the Channel Fleet (FLOMANCHE) under the command of ALFAN. He actually joined Cherbourg on 4 December 2001.

Its main mission is the surveillance and control of fisheries and the surveillance of maritime approaches in front of the main ports of the Channel and North Sea coast. It is also used in the context of:

-assistance and assistance to the people, for example the gillnet Annie Risager suite waterway (October 2000), the trawler Te Reva for the evacuation of a wounded (2010), the searches of shipwrecked of the coaster Iles du Ponant (January 2001), the trawler Déesse des Flots following its sinking off Barfleur (2006), the trawler L'Irlandais (2007), and those of a passenger plane following a crash off Cherbourg (2008) ).

-the fight against pollution, around the shipyard Erika (March-September 2000), that of container ship MSC Napoli stranded in Lyme Bay (2007), the investigation after collision in the Channel of the chemical Ece which flows with its 10,000 tons of phosphoric acid (2007), the securing of the area following the sinking of the fisherman Manolie III off Cherbourg (2007), or the trawler Notre dame of the trinity II failed at Cape Gris-Nez (2001). In 2003, the Flamingo and the Plover monitored the wreck of the Norwegian ro-ro Tricolor north of Dunkirk, followed by the massive demolition project that followed.

In other registers, the Plover has carried out sailing support missions including the "Solitaire du Figaro" (2001, 2006, 2007, 2010) and the transat Jacques Vabre (2001). He also occasionally participated in the escort of nuclear waste transports.

He is the only patroller of his type to have been honored by the visit of the President of the Republic, Jacques Chirac, on February 17, 2004.

The Plover has been godmother to Le Guilvinec since May 20, 1999.
Crew
3 officiers + 12 officiers mariniers + 6 quartier-maîtres et matelots.
Type
Patrol boat
Overall length
54
Displacement
300t to 477t (full charge)
Country
France