THE

INVITED

VESSELS

Back to sailboats list
Sagres II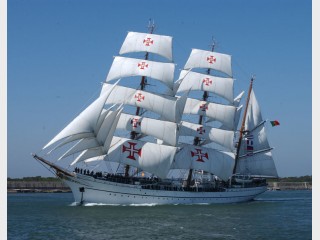 This ship was built in Germany, from 1937 to 1938, in the Blohm & Voss Hamburg shipyards.
It was named Albert Leo Schlageter and served as a training ship in the Kriegsmarine. It belongs to the same series as Tovarishch (Ukraine), ex-Gorch Fock I (Germany), Mircea (Romany) and Eagle (United States).
Damaged by a mine on the Baltic Sea, it was restored by the US in 1945 and then sold to Brazil, who renamed it Guanabara.
Finally, it was sold to Portugal in 1961 and since then, its name is Sagres, in honour of a headland next to Cape Saint-Vincent (South Coast of Portugal).
It is recognizable by it sails that have the red cross of Christ.
Participation in Armada: 1989, 1994, 1999, 2003, 2013
Crew
163 sailors and 80 cadets
Type
Three-masted barque
Launched
1937
Overall length
89.48 m
Hull length
81.28 m
Beam
12.02 m
Draught
5.30 m
Sail area
1796 m² (23 voiles)
Displacement
1869 tonnes
Shipyard
Blohm & Voss, Hambourg
Owner
Portugese Military Navy
Country
Portugal
Home port
Lisbon