THE

INVITED

VESSELS

Back to sailboats list
Sedov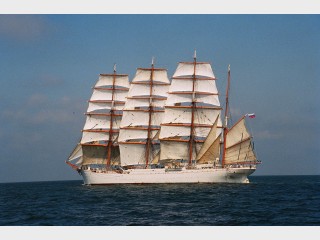 The Sedov or STS Sedov is a four-masted barque of 117 m. It is the largest Russian sailing ship and the largest training ship in the world. It was built in 1921 as a German merchant ship, but, in 1950, it was handed over to Russia as war reparation and it was converted first into an oceanographic research ship and then into a training ship.
After the fall of the Berlin Wall in 1989 and the declaration of independence of Latvia in 1991, the Sedov left Riga for Murmansk, its new home port in the Barents Sea, free of the icy winter.
This training ship, owned by the Murmansk Maritime University, trains cadets, sailors and fishing engineers from Kaliningrad and Murmansk naval schools with a crew of 65 sailors and 164 cadets on voyages of 3 months.
Crew
65 sailors and 164 cadets
Type
Four-masted barque
Launched
1921
Hull length
117,5 m
Beam
14,6 m
Draught
6,5 m
Sail area
4192 m2
Displacement
3500 tonnes
Speed
18 noeuds
Country
Fédération de Russie
Home port
Mourmansk - Russian Federation