THE

INVITED

VESSELS

Back to sailboats list
Shabab Oman II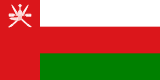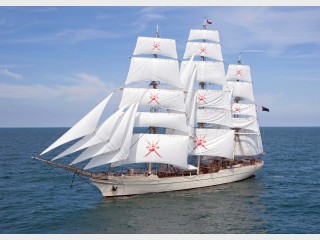 Project Orchid's goal was to build a new sailing training vessel for the Royal Navy of Oman to replace the much-loved, but aging Shabab Oman. The new vessel is three-masted square, with its specific "V" shaped hull, the vessel, like all clippers, is crafted for speed. And 29 sails of 2,630 square meters allow it to reach a speed of 17 knots. It has a crew of at least 90 members including 54 permanent and 36 trainees. There is also accommodation for 4 VIPs.
The vessel was built by Damen, a Dutch shipbuilder, with steel hull construction being carried out at Damen's Galati shipyard on the Black Sea coast in Romania at the mouth of the Danube. Each stage of the construction was supervised by a special team of RNO officers who lived in Romania and the Netherlands during the construction of the ship.
The hull of the new vessel was launched in November 2013, then towed by the Black Sea, into the Bosphorus and then into the Mediterranean. After defeating storms in the Bay of Biscay, the ship arrived in Vlissingen, Holland in January 2014, where construction was completed, including the complex rigging of the rigging. Sophisticated navigation and communication devices have also been installed.
The first long voyage of the ship was the crossing by the Mediterranean Sea, the Red Sea, the Arabian Sea and the Sea of ​​Oman to reach the Omani capital, Muscat. Shabab Oman II will be present at Armada 2019, carrying the message of the Sultanate of Oman: friendship and peace.
The figurehead of Shabab Oman II pays tribute to the great Omani navigators, such as Ahmad Bin Majid, who once reigned supreme over the Indian Ocean.
Type
Three-masted square-rigged ship
Launched
2013
Overall length
85.8 m
Beam
11.1 m
Draught
4.73 m
Sail area
2 630 m² (34 sails)
Owner
Sultanate of Oman
Country
Oman
Home port
Muscat, Oman