THE

INVITED

VESSELS

Back to sailboats list
Sorlandet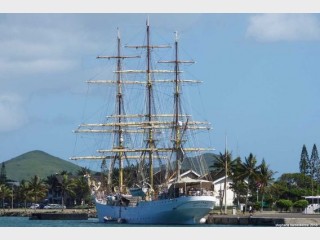 Sorlandet, what means " Country of the South ", the name of a region in Norway, is a training ship square three-master. It began its career at the school of Norwegian merchant navy in 1927. It was not originally motorized.

In 1933, after its first crossing of the Atlantic Ocean, it participates in the World Fair of Chicago to represent Norway. In 1940, it is seized by the German army and is transformed into military prison.

From its liberation, its restoration is begun for a rearmament in 1947. It takes back its functions of training ship. In 1977, it is offered to the city of Kristiansand.

Since its renovation in 1981, it welcomes trainees of the merchant navy of all the nationalities for initiatory and formative journeys on the North Atlantic and in the North Sea. He welcomes occasionally younger officers of Marine Royale Norvégienne.

Participation in the Armada: 1989, on 1994, on 1999, on 2003,
Type
Three-masted clipper
Country
Norvège